Product:
Temporary Roofs
The HAKITEC 750 Roof System can be tailored to any structure and is lightweight, safe, fast and easy to erect.
scroll down
Product Features:
Provides maximum protection against the elements and helps to contain hazardous materials.
Very effective weatherproof seal.
Features totally safe erection methods using collective fall prevention.
Up to five times faster to install than traditional structures.
Fewer components compared to other systems.
Lightweight, easy to handle./li>
Compatible with all types of scaffolding.
Can be moved quickly and easily.
Versatile - ridged, mono-pitch or polygonal roofs.
Adaptable to suit specific structures and requirements.
Can accommodate planned and unplanned openings to the work area as required.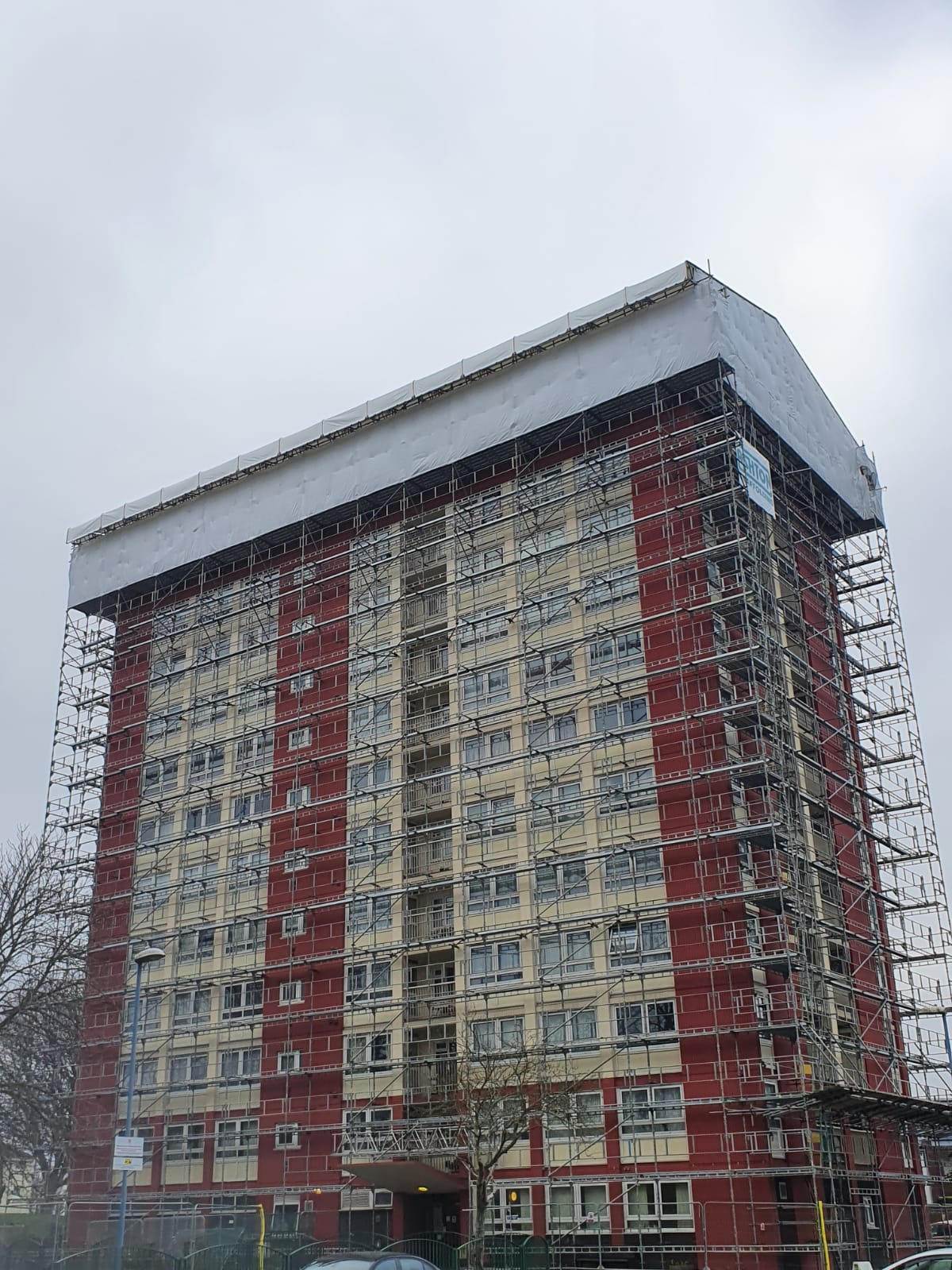 CASE STUDY TEMPORARY ROOF: BRISTOL
Installing a Haki temporary roof on the top of a 12-storey block of flats is one of the more dramatic ways to demonstrate the many benefits of Haki System Scaffold, but the project at Baynton House in Bristol proved to be the perfect platform for a collaboration between Ashton Scaffolding and UK System Scaffold Hire.
As Paul Farmer, MD of Ashton Scaffolding explains: "We knew that on a project like Baynton House Haki Universal Scaffolding would provide logistical and cost benefits, but the real "clincher" was the way that UK System Scaffold responded to our enquiry about hiring equipment for the job: From day one they were proactive and enthusiastic about providing the right solutions. I know it's a cliché, but they became an integral part of the team."
Initially UKSSH invited the Ashton's team to their new Tamworth base where they built trial scaffolds to demonstrate corner details and internal ladder access methods as well as safe systems of working multiple lift scaffolds.
Together Ashton Scaffolding and UKSSH also developed system cantilevers on the final lift on either side of the building to provide a fully guarded platform from which to install the roof.
Once the project was under way, UKSSH provided ongoing site support to help ensure that the project didn't experience teething problems and they continued to make regular site visits to ensure that the supply of materials was meeting the client's expectations. The result of the collaboration proved to be equally pleasing on the eye and the budget sheet – Ashton Scaffolding has calculated that, compared to using tube and fitting, they achieved a 35% labour saving on the project.