Product:
Public Access Staircases
The Haki Public Access Stair is designed in full compliance with Building Regulations.
scroll down
Product Features:
The Haki Public Access Staircase provides safe, fast and efficient public access.
Safe working loads up to 7.5kNm2 can be achieved.
Unique tamper proof locking devices ensure maximum safety.
All components are ergonomically designed for safe and easy installation.
Double DDA handrails, GRP steps and landings and solid treads mean they are fully compliant with the strictest safety standards.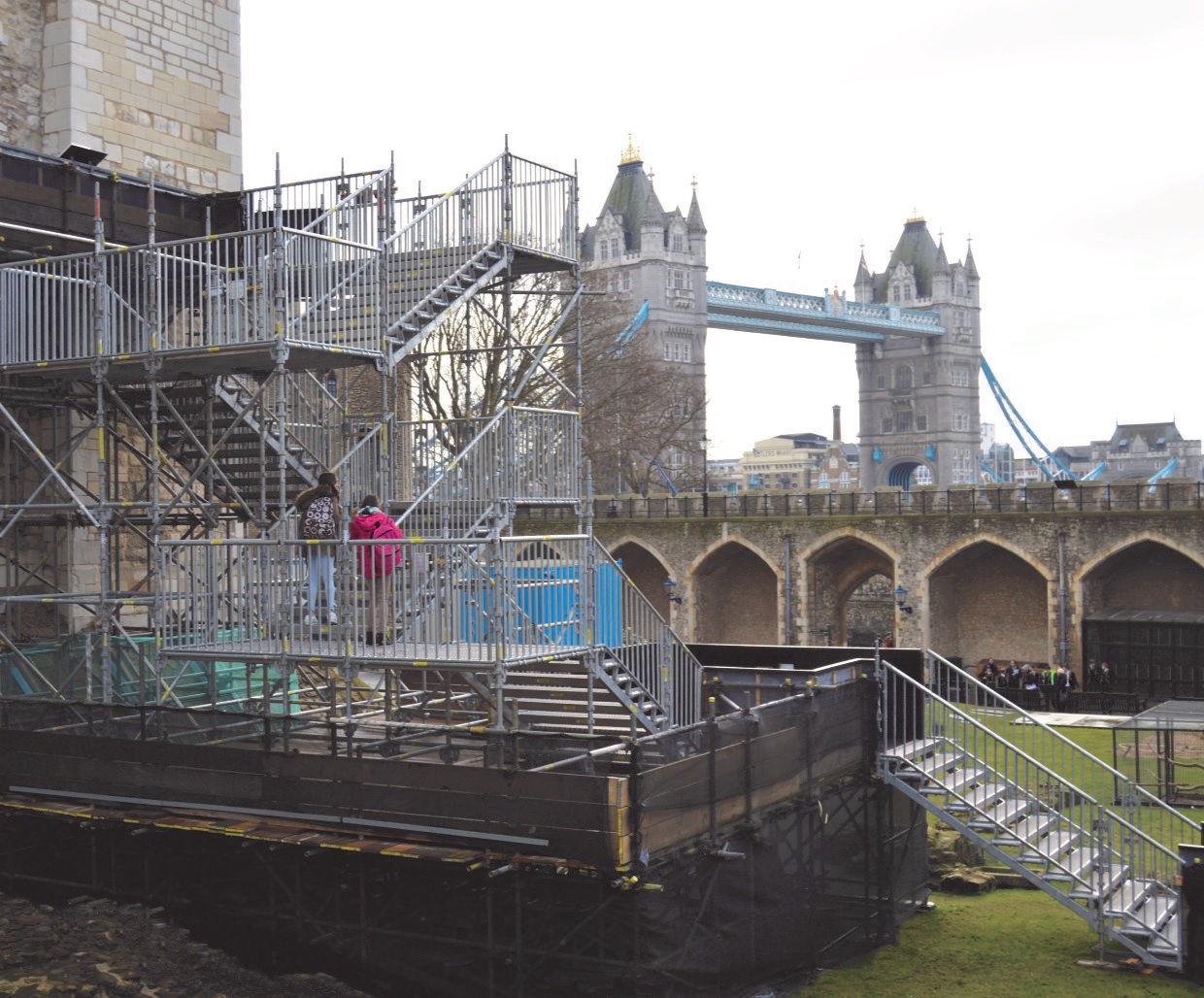 CASE STUDY: TOWER OF LONDON
Unique Scaffolding was asked to provide a temporary stair for pedestrian use to access the White Tower whilst the installation of new steps takes place. The stair will remain throughout the winter months until August 2015. They chose to hire the HAKI Public Access Stair through the national hire company UK System Scaffold Hire.
The stair required had to be able to cope with large numbers of visitors queuing on the staircase during busy periods and lead them up to the temporary entrance on the west elevation.
It also had to provide a safe, comfortably and steady walkway for tourists visiting the historic building.
Due to the historical importance of the building the stair could not be tied to it and therefore had to be free standing.
The permissible load for a tread width of 1.6m and loading from one side is 7.5 kN/m2. The stair was designed to be capable of taking a maximum load of 189 people, more than adequate for the required access of 100 people at any one time.
The aluminium treads provided with the stair delivered the perfect slip resistant steps and landings without any additional GRP covers even throughout the cold, icy winter months.
To avoid any potential damage to the Scheduled Ancient Monument the stair was designed and built to be free-standing.
Through UK System Scaffold Hire, Unique Scaffolding was able to provide a safe, strong stair capable of withstanding the many tourists that will visit the Tower of London during the months whilst the step replacement takes place.